Getting Your Family Tree Chart Printed
When you're ready to submit your genealogy data to have your family tree chart printed, the process is incredibly easy. Submitting your data to us and ordering your family tree chart can be done either via e-mail, FTP, or snail mail. The chart further below will help you determine what to send us to have your chart printed. If you have any questions, simply give us a call.

Here are the simple steps: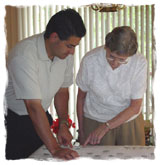 You can be sharing your family tree chart with family members in less than a week!

Simply design your family tree chart using the genealogy software you're already using. If you're using Family Tree Maker, you can also review our page about Family Tree Maker printing tips. If your current software can't be used to design charts, we can import your GEDCOM data into a program will. We've included some design tips further below for any type of genealogy chart.

If you maintain your genealogy data on a social networking site such as Ancestry.com, Geni, My Heritage, or Tribal Pages, simply export your data as a GEDCOM file and e-mail it to us. If your data is on Ancestry.com and you'd like your photos included on your chart, we will need to download both your data and photos directly from Ancestry.com. If that will be the case, we will need to know your user login and password along the name of the tree to download if you have more than a single tree.

Add any enhancements to your family tree chart that your genealogy software supports. We can also add enhancements to your genealogy chart if you'd like for an additional charge.

If you'd like to order completely online as most of our customers do, simply e-mail us a short note describing the type of chart you need printed, and include your genealogy file as an attachment. The chart further below will help you determine what type of file to send us. If your genealogy file is too large to send as an e-mail attachment, generally anything over 8 meg, you can send it to us for free using our account at You Send It. You can send us file up to 2 GB in size using our account.

If you're ordering by mail, print our order form, and fill in the required information. You'll be letting us know the type of family tree chart you'd like and the individual we're starting from (i.e. - ancestors of John Smith, descendants of John Smith, etc.). Then, mail us the order form along with your genealogy file on disk or CD.

Upon receiving your genealogy data and order form, we'll call or e-mail you if we have any questions.

We will then print your family tree chart using your settings and design directly from the genealogy software program you used, or we will design your chart for you if you'd prefer. Our turn-around time is normally only a few days, except around holidays and during the busy summer family reunion season. Your family tree chart will then be shipped to you in a triple-protective shipping container. We ship worldwide!
Tips For Designing Attention-Grabbing Family Tree Charts
Everyone has their own ideas of what they want their family tree chart to look like, so we're not going to tell you that it should look a certain way. Here are some tips you might want to keep in mind during your design process:
Decide early on if this is going to be your finished masterpiece, or a work in progress chart that you'll be updating every year or so. Will your project be for a genealogy wall chart that you'll be framing, or will it be a big genealogy chart that you'll unroll to view.
Printing your genealogy chart on large format, continuous roll paper gives you the flexibility to include more information about each individual in their box and to make each box larger if you'd like. You're no longer constrained by the size of a piece of paper.
And, since you're no longer constrained by paper size, make sure the size of the type you use is large enough for people to read. Consider using 12 point bold type for each person's name and 9 or 10 point regular type for everything else. Having an easily readable chart is important.
Just because your software program allows you to add a solid color background to the chart doesn't mean it's a smart thing to do. A plain white background usually looks better, and is cheaper to print, than a solid color background.
A family tree chart that is printed on continuous roll paper will have smaller dimensions than one that is printed on 8.5 inch by 11 inch pieces of paper and then taped together. If your genealogy software program has an option that allows you to have the boxes overlap the page breaks, select it. This will reduce the wasted space in your chart due to the page breaks on 8.5 inch by 11 inch paper, and give you a better idea of how it will look on continuous roll paper. In Family Tree Maker, you'll find this option under tree format.
The three widths of continuous roll paper that we use are 24 inch, 36 inch, and 42 inch paper. If your genealogy software program indicates that the height of your family tree chart is 36.2 inches, consider doing some minor layout modifications so that we will be printing on 36 inch paper instead of 42 inch paper. This will help keep your cost down. You will want to keep the height of your chart 2 inches less than the paper size to allow for a 1-inch margin.
If you have an extremely long ancestral chart, of 40 or 50 feet for example, and you feel that it might be too large to unroll conveniently, consider having us print it as two separate charts. You could have one ancestral chart for yourself and the second ancestral chart on your spouse's side. Two separate charts of 20 or 25 feet each can be a lot easier to work with.
Determining What Type of File To Send Us
Generally speaking, you should NOT send us a GEDCOM file (*.GED) if you have already designed your chart or if you have photos in your database that you want included on your printed chart that we will be designing for you. The file types which are listed in the table below are the file extensions (FTW, FTMB, GED, LWC, VC2, CHT, PDF, FHC, PAF) which are associated with different genealogy software programs.
The file you should send us depends upon where you have your genealogy data and whether you want photos in your chart

Genealogy software or online genealogy site that you use

If you don't want photos on your chart

If you do want photos on your chart

Family Tree Maker 1-16

FTW or GED file

FTW file

Family Tree Maker 2008 or later

FTM or GED file

FTMB file

Family Tree Maker for Mac

FTMB or GED file

FTMB file

Ancestry.com

GED file or we can download your data from Ancestry.com

We will download your data and photos directly from Ancestry.com

PAF

PAF or GED

N.A.

Legacy

GED

LWC or LWCX file

Master Genealogist

GED

The VC2 file you created in Visual Chartform

Geni.com

GED

N.A.

MyHeritage.com

GED

Export your data to Family Tree Builder or design you chart online and save as a one-page PDF file

Family Tree Builder
GED
Single-page PDF of the chart you've designed
Generations Family Tree
GED
The CHT file that you created in Easy Chart
Mac Family Tree
GED
Single-page PDF of the chart you've designed
Reunion
GED
Single-page PDF of the chart you've designed
Roots Magic
GED or one-page PDF export of your design
The RMC file that you created in Roots Magic or one-page PDF export of your design
TribalPages.com
GED
N.A.
Family Historian
GED
GED & FHC files, and your entire multimedia folder
Tree Draw
One-page PDF export of your design
One-page PDF export of your design
Other software
GED
Call us for instructions
For additional ideas about designing your chart, please visit our pages about Family Tree Maker printing tips and enhancing your chart. And, if you haven't already done so please watch the video about our services. We're so sure you'll love our family tree printing services that we confidently provide a complete money back guarantee on all orders.
Please call us at 630-653-8400 or e-mail us at sales@ancestryprinting.com if you have any questions about having your chart printed. International callers can also Skype us if preferred; however, we ask that you email us to set up a convenient time for a Skype to Skype call.  We are located in the central time zone of the U.S. (GMT/UTC-6 and -5 in the summer), and can make arrangements for incoming Skype to Skype calls up to around 10:00 PM local time on most nights. We only accept Skype to Skype calls that have been pre-arranged by email. 
The fun of telling your family's story
is easier with a printed family tree chart at hand.
Table of Contents
This table of contents is at the bottom of every page on our website.