Genealogy Gift Certificates For The Genealogist In Your Family - or Yourself
With a gift voucher in hand , the genealogist in your family will be able to print the family tree chart they've always wanted to have! The size chart shown above would be $134.00 for design and printing.
If you're looking for a special birthday or holiday gift idea for the genealogy buff in your family, you may want to consider giving them a gift voucher towards the design and/or printing of a family tree chart. Now may be the perfect opportunity to create a break from the never-ending cycle of genealogy research that the genealogist in your family does, and turn the value of their years of research into a practical and unique family tree chart that the whole family will enjoy.
Most family historians will readily admit that their genealogy research is a work in progress, and that there never really is an ending because someone is always being born, getting married, or passing away, and then there is always a new branch or a brick wall somewhere to resolve. But at the same time they'd also love to see the fruits of their labor as a printed family tree. Providing your family historian with a gift voucher can provide them with the impetus to enjoy a printed chart in the near-term that everyone will enjoy seeing.
Family Tree Gift Vouchers - A surprisingly affordable Gift!
Our gift vouchers are available in multiples of $25 so whether you're trying to cover the entire cost of a eye-catching chart, or you just want to provide a meaningful contribution to the family historian in your life, there's an affordable option for you. To put everything in perspective, printing prices can vary and are dependent upon the physical dimensions of a chart. Some charts can be less expensive like the one shown to the right, and others more expensive.
We've printed charts as small as 3 feet in length and as long as 250 feet, so we're capable of providing whatever the genealogist in your family needs or would like to have. And we can print directly from most all of the popular genealogy software products on the market. And if the genealogist in your life hasn't already designed their chart, we can take their data in GEDCOM format from any genealogy software program and design virtually any style family tree chart for them starting from only $59.00. Our vouchers are ideal gift for anyone who has already been entering their data into either a genealogy software program, or who has been compiling their data on the Internet using an online service like Ancestry.com. Best of all - they don't expire - so there isn't a deadline your genealogist has to meet. Make this year the year that your genealogist brings your family tree chart to life in printed form!
Click Here To Order Genealogy Gift Vouchers!
For a limited time only, you will also receive the FREE bonus gift shown further below.
After clicking the button above, you will be prompted to select the amount of the gift voucher you'd like - available in multiples of $25.00. Vouchers have no expiration date, no cash value, no refund value, and can only be redeemed for either our design or printing services.
When you arrive at the checkout to pay for your purchase, please enter the recipient's name at the bottom of the "Billing Page" in the "Comments Section" so that we can customize the gift certificate as shown in the example below.
A sample genealogy gift certificate is shown below.
This will be customized with the amount, your name, the recipient's name, and then sent to you as a PDF file which you can either print or email to the recipient.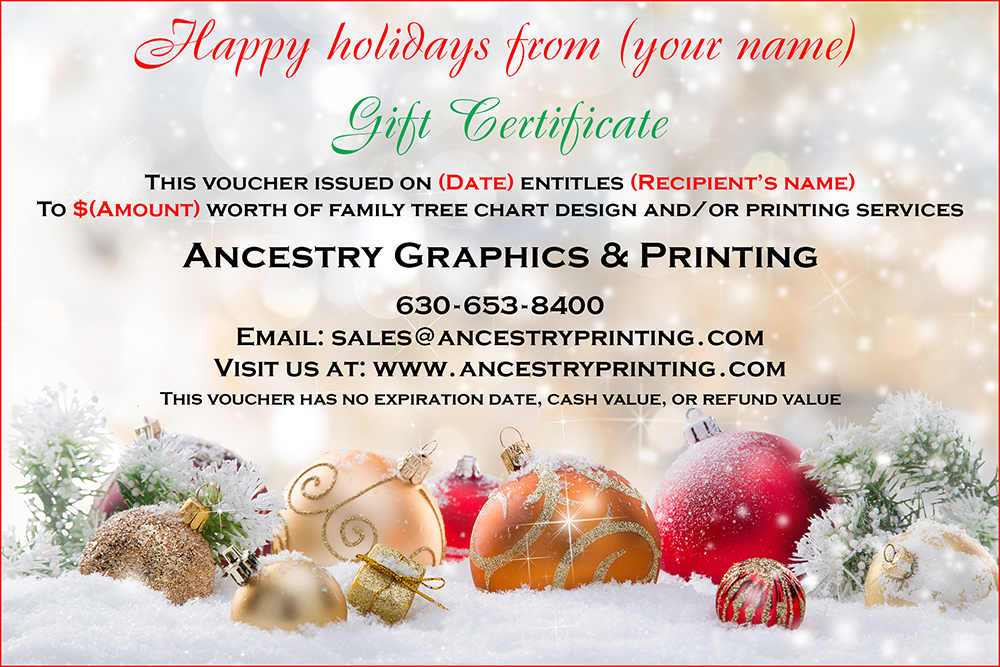 Limited-Time

Free Bonus

With The Purchase of Any Genealogy Gift Voucher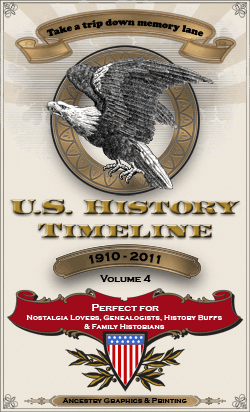 Don't be surprised when your genealogy gift becomes the center of attention at your family gathering.
For a limited time, customers who purchase pre-paid vouchers for family members or friends will also receive as a free gift the latest 104-page digital edition of the U.S. history timeline which we released in 2012. This insightful timeline provides genealogists, nostalgia lovers, and family historians with a colorful glimpse of what life was like in the past. Covering the years 1910 to 2011, Volume 4 is definitely a nostalgic view of history for readers of all ages because everyone can relate to some part of it. For each of the 102 years included, there are twelve subjects covered including what historical, cultural, financial and military events were occurring; and what inventions, conveniences and advances in communication, medicine and transportation were taking place and shaping everyone's lives. Learn more about our U.S. History Timeline now.

We invite you to learn more about our family tree and genealogy chart printing services by watching our video and by following any of the links shown below. When you're ready to purchase a gift voucher for your own family historian, simply return here and click the button above, or you may call us at 630-653-8400 if you'd prefer to purchase your voucher over the phone.
Providing you and your family with high quality printing from any genealogy software program, along with prompt, professional customer service is our main objective. If you have any questions about giving a genealogy gift voucher to a friend or family member, please call us at 630-653-8400 or e-mail us at sales@ancestryprinting.com.
Table of Contents
This table of contents is at the bottom of every page on our website.