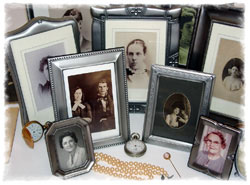 Genealogy Web Sites
Whether you're looking for marriage records, birth records, death records, land records, census records, immigration information, historic maps, old newspaper records, biographies, or published family trees, there are thousands of web sites with genealogy information at your disposal. If you're new to genealogy research on the Internet, here are just a few of the ones that we use often and which we'd recommend you visit.
Our Recommended Genealogy Web Sites
This short list is meant to serve only as a starting point if you're new to genealogy and trying to find some excellent web sites to begin your genealogy research. Other good sources of genealogy information on the Internet are the genealogy societies within every county, local, county and state libraries that have a genealogy collection, and state sponsored sites that provide searchable databases for marriages, land records and deaths within the state.
As you build your family tree, we hope you'll keep us in mind as a source where you can come to print your family tree charts. If you have any questions about any of our genealogy chart printing services, please call us at 630-653-8400 or e-mail us at sales@ancestryprinting.com. And, if you haven't already done so please watch the video about our services.
Table of Contents
This table of contents is at the bottom of every page on our website.