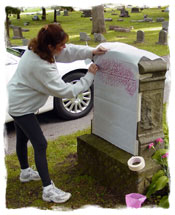 Headstone Rubbing Techniques That Get Results!
Getting good results from headstone rubbing can be achieved with just a few tricks of the trade and a small investment in the right materials. Like many other genealogists before us, we went through our own learning curve using the wrong materials and techniques during our first few attempts at headstone rubbing.
Since then, and with visits to the headstones of over 60 ancestors, we've perfected our technique at headstone rubbing and now get excellent results most every time. Here are the materials and techniques we use when doing a headstone rubbing.
Materials You'll Need For Headstone Rubbing
Here's a list of supplies that you'll need:
Non-fusible medium weight interfacing. Interfacing is white fabric available for about $1.00 per yard at your local fabric store. Make sure that you purchase the non-fusible variety if you plan on ironing your headstone rubbing later on to set the wax. If you purchase the fusible variety, the fabric will fuse to what ever it touches during the ironing process. The reason for choosing the medium weight over light or heavy weight is simple. Light weight interfacing is too thin and will likely rip or tear when you begin your headstone rubbing. Heavy weight interfacing can be too thick to pick up the fine detail on some headstones. The brand we purchased was made by Pellon. We've also tried using paper but achieved poor results. Additionally, paper can easily get creases and folds that won't come out if you try and pack it into any type of suitcase or travel bag. Fabric can be folded or rolled up without leaving any type of lasting creases or fold marks.
Rubbing Wax. Some people use jumbo crayons, but we found that a cake of rubbing wax is much easier to handle and to apply with even pressure. If you have an art store in your town, you might find cakes of rubbing wax there for about $4 to $8 each. We purchased ours over the Internet from an art supplier and there are several that carry this item. Simply do a search for "oldstone rubbing wax" or "tombstone rubbing wax" or "headstone rubbing wax". We've used red, brown and green rubbing wax and really don't have a favorite.
Try visiting Fun Stuff for genealogists and look at their product called "Black Cat Brand Tombstone Rubbing Wax".
You can also visit Pushin Daiseys as they sell a different brand as well.
Scissors for cutting your fabric to size
Masking tape to hold your fabric in place on the headstone. You don't want it slipping.
A good digital camera or your cell phone camera to take photos of your ancestors headstone in case your rubbing doesn't turn out as well as expected.
The Best Technique For Headstone Rubbing
Here's the procedure we follow once we've located the ancestor's headstone we want to do a rubbing on.
Measure and cut your fabric to size. Include enough extra to wrap around the side of the headstone. You can trim off any excess later.
Secure the fabric to the headstone with masking tape as thoroughly as you can on as many side as you can. If the material slips during your rubbing, you'll achieve poor results.
Pick a direction that you feel most comfortable rubbing and begin the rubbing process. It doesn't matter if you want to rub diagonally, horizontally or vertically. Which ever way you start, you should stick with that same rubbing pattern the whole way through. This will result in a more visually appealing finished project.
Try to use even pressure throughout the entire rubbing process to avoid obvious streaks that will show up when you press harder.
We've read that some people recommend ironing your headstone rubbing afterwards to set the wax into the fabric. We've tried this ourselves and could see no actual visible results so we don't do it anymore. We're really not sure if this is some type of old wife's tale that got started by someone who meant well or not. We don't think any headstone rubbing has been around long enough to know if crayon will fade off of the material. We know it hasn't faded off of any of our children's artwork after 30 years, so we really doubt it fade off of the material. If you do decide to iron your headstone rubbing, make sure you put a piece of old cloth on both sides of the interfacing while you iron. Some of the wax will actually melt on to the extra piece of cloth.
The key to any cemetery visit is to get the location of your ancestors grave before visiting the cemetery, so please download our cemetery log sheet for free.
Photographic Examples of Headstone Rubbing
One of the greatest advantages of a headstone rubbing is that it can reveal intricate details on a headstone that are near invisible to the naked eye. Our various headstone rubbings have revealed ornamental patterns, dates and lettering that we couldn't see in person, and which weren't picked up with the numerous photographs we take of each headstone.
Over the centuries, headstones have been constructed from a variety of different materials. Headstones from the 1600's and 1700 that were made from slate usually show little or no weathering. On the other end of the spectrum, headstones from the 1800's that were made from sandstone are usually in very bad shape. Since around 1900, most headstones have been made from granite and should withstand weathering for thousands of years. Preserving the inscriptions on you ancestors headstones is something that will be appreciated by generations to come.
Here are several examples of what you can expect to bring home when you do your own headstone rubbing. We included rubbings from 3 different types of headstones so that you can see how the results differ. The 1892 headstone, which is written in German, was especially interesting because all of the ornate decoration on the top section which was not visible to the naked eye came through on the rubbing. The polished granite headstone from 1946 illustrates how the fine detail of the vine branches is picked up in the rubbing.
Headstone
Date

1887
1892
1946

Before


Click photo for larger version


Click photo for larger version


Click photo for larger version

During


Click photo for larger version


Click photo for larger version


Click photo for larger version

After


Click photo for larger version


Click photo for larger version


Click photo for larger version
There is also a really gorgeous poem about finding your ancestor's headstone that is available in two separate versions on our poems page. If you like the challenge of finding ancestors that you never knew you had, you'll love this beautiful poem named "Dear Ancestor". This heart-warming poem is a must-have for anyone planning a cemetery visit, or anyone who has already visited a cemetery in search of their ancestors. We know you'll really enjoy having it for your own! It will be the first and second poem (two versions) on that page. To commemorate Family History Month in October 2013, we put this very poignant and moving poem to video which you can watch below or on YouTube at any time by simply doing a search for "Dear Ancestor poem" on their website.
"Dear Ancestor" poem presented as a video
Please call us at 630-653-8400 or e-mail us at sales@ancestryprinting.com if you have any questions about our family tree printing services.

Table of Contents
This table of contents is at the bottom of every page on our website.