Enhancing Your Family Tree Chart With Graphics
There are many ways to add a little pizazz to your family tree chart with just a few simple graphics. Here are just a few ideas you can try. The key point to keep in mind is that the content of your genealogy chart should focus on the individuals in your family tree, and not on your graphical enhancements - so don't overdo it. Adding artwork to your chart allows people to become art critics of your genealogy chart, so be careful in making your decision as to whether to include additional graphics or not.
Adding a background picture to your family tree

If you'd like your small chart to have an artistic appearance, including a background photo is one option that can transform it from a simple chart to a work of art. Selecting the right photo that doesn't contain too much detail is the most important consideration to keep in mind. Wile background photos may work on small charts, they absolutely won't work on large charts. Also, you'll need to start with a sufficiently large enough photo so that it won't become too grainy when it is stretched to fit the borders of a chart. Here are a few examples of what other customers have done that will give you an idea of what is possible.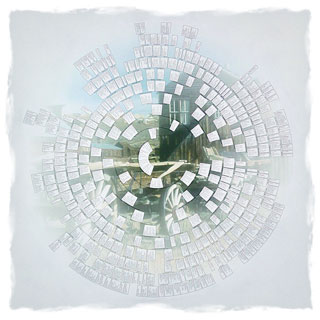 Dressing up the title of your family tree

The single easiest thing you can do to dress up your genealogy chart is to work on the title. Consider using a very large font size for the title of your chart and adding a little flair with some simple clip art. The title doesn't always have to be centered at the top of your chart either. It can be placed over on the left side of your chart where there is usually a gaping hole. It can also be placed there next to a family crest if you have one. Here are three scaled down title examples to get you thinking. If you don't have any clip art to choose from, we can always add some to your chart if you'd like.

Framing your family tree with borders or corner elements

Corner ornamentation can dress up small charts and is relatively easy to put in place. Using a border graphic to frame a small family tree can work nicely as well, but graphic borders don't always resize well or work correctly on large family tree charts. If you want to place a fancy border around a large family tree chart, consider building the four sides of the border separately, and then pasting them onto your chart as individual graphics. Most of the time, you'll probably want to use the standard line borders that your software program can put in place for you. If you decide to add some corner ornamentation, every software program works differently on how close to the line borders you can place a graphic element. Here are a few scaled down examples.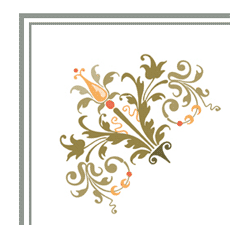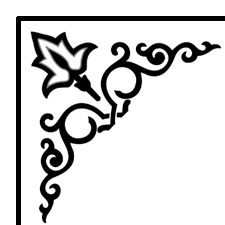 Bringing attention to specific individuals in your family tree

It would be nice if we could always remember all of our ancestors who immigrated to the U.S., or who were in the Revolutionary War, Civil War, War of 1812, etc. It makes story telling much easier when we show off our charts. By simply adding a few graphics to your chart, these individuals are easier to remember and locate on your family tree. You can design similar graphics on your own, or you can download our specially designed collection of family tree clip art to use in your chart. Here are a few examples.
Adding additional information to your family tree

Sometimes it's useful to have a chart that serves as a road-map or checklist to our genealogy goals and achievements. For example, on one of our ancestor charts, we keep track of of those ancestors whose cemetery we've visited. It makes for a quick and easy way to immediately see where we've been and what we still need to do. This graphic element is also a part of our family tree clip art collection that you can download for free. Here's an example.
If you haven't already done so please watch the video about our services and see examples of charts which we can design for you if you're not designing your own chart. We're so sure you'll love our genealogy printing services that we confidently provide a complete money back guarantee on all family tree printing orders.
Please call us at 630-653-8400 or e-mail us at sales@ancestryprinting.com if you have any questions about our blank family tree charts or submitting your order. International callers can also Skype us if preferred; however, we ask that you email us to set up a convenient time for a Skype to Skype call.  We are located in the central time zone of the U.S. (GMT/UTC-6 and -5 in the summer), and can make arrangements for incoming Skype to Skype calls up to around 10:00 PM local time on most nights. We only accept Skype to Skype calls that have been pre-arranged by email.
Various artwork on this page courtesy of Aridi Computer Graphics.
Table of Contents
This table of contents is at the bottom of every page on our website.