Family Reunion Planning Tips
Planning a successful family reunion is no easy task. That's why it's usually a group effort with many people taking responsibility for different projects. If you're in charge of gathering family data and preparing a genealogy chart for display at your own family reunion, here are some tips that will help.
Collecting Data For A Family Reunion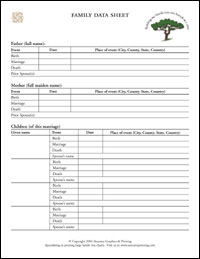 If you've been actively pursuing genealogy for any length of time, you already know that it can sometimes be more difficult to get information from living relatives than it is to get information about ancestors who have long since passed away. Everyone experiences this at some point, and it is especially bothersome when you're trying to prepare a family tree chart in time for an upcoming family reunion.
This is one of the reasons we designed our own family data sheets and ancestral data sheets to collect information from our relatives. By simplifying the forms and making them easier to complete, we were able to increase our own response rate. Both of these free data collection sheets are in PDF format making them easy to use as an e-mail attachment, or to print and mail.
Protecting Your Family Tree Charts
Depending upon how you plan to display your genealogy chart at your family reunion, accidents can happen, so it can sometimes be a good idea to protect the edges from tearing. Often times we will wrap clear 2-inch wide Scotch packaging tape around the edges of our own genealogy charts to prevent any accidental rips or tears if someone mishandles the chart. We have found that it works best to use small pieces of tape that are about 10 to 12 inches long, and then repeat the process along each edge, rather than using a single long piece of tape for each side. It is far easier to evenly fold and wrap the tape to the back side of the chart without having wrinkles when you're using smaller pieces of tape.
If you don't protect the edges of your genealogy chart in advance, consider bringing a roll of clear 2-inch wide Scotch packaging tape to your family reunion in case of an accident. Repairing your chart after an accident will only take a few minutes and will save the day. It's like packing a needle and thread emergency sewing kit with you when you travel. Your family tree chart, like your clothing, will probably never rip, but you want to be prepared just in case it does.
Displaying Your Genealogy Charts At A Family Reunion

The ideal and recommended way to display your chart at a family reunion is laying it flat of a row of meeting or banquet tables. Since most descendant charts are printed on 24 inch tall paper, either 24-inch or 30-inch wide tables will work fine if you'll be indoors. These normally come in 6 and 8 foot lengths. If your family reunion is being held at a hotel or banquet hall facility, they should be able to furnish you with enough tables to place end-to-end. If your family reunion is being held outdoors, you can still display your family tree chart on a row of tables; however, you'll need one more item - tablecloth clips.
If you'll be displaying your chart outside on tables, make sure that the tables you use are the exact width of the chart which is normally 24 inches. If you use 30 or 36 inch tables, you won't be able to use tablecloth clips to hold your chart firmly down since your chart won't come to the edge of the tables unless you place it off-center. You can rent 24-inch by 8-foot tables from party rental companies for around $10.00 each. You can even arrange for delivery from many of these companies. If you have a 50-foot long chart, you'll want to rent 7 8-foot tables for the day. We highly recommend that you also use 1 pack of tablecloth clips for each table being used. You don't want any wind getting under your chart and lifting it up and off the tables or ripping it.
Tablecloth clips come in a variety of sizes and styles as shown above, and normally sell for around $5.00 per pack. You will want to know (and preferable see) the tables you'll be renting so that you purchase the most appropriate clips for the design of the table. Some tablecloth clips are meant for tabletops that are a uniform 1.5 inch thickness like a picnic table, while others can be adapted to work on tables where the bottom is recessed. Your party rental store may even carry the exact ones which you should use since they will often rent these tables for outdoor events. Check with them first before buying any on your own.
In an ideal world, you should also practice using the clips on a sheet of regular 8.5 by 11 inch paper first so that you can understand any challenges you may face when you unroll your chart and start clipping it in place. You'll want to have some practice on the actual tables you'll be using so that you know you have the right clips and so you won't later rip any part of your chart putting the clips in place. If you have a very long chart, don't unroll the whole chart at once or the wind may damage it before you get it clipped down. Make sure you have plenty of helpers so that your chart stays protected while you're unrolling it and again at the end of the day.
One of our customers from Georgia also came up with the clever idea of protecting the surface of her chart from sticky little fingers or any other mishaps. As shown in the photo to the right, she purchased a 100 foot roll of clear table runner from Party City for $17.00 which she cut to size. She then used table cloth clips as we suggest to secure her chart and the clear runner to the table in case it got windy.
If you have a small chart and plan on displaying your family tree chart on a wall rather than laid out on several tables, you should give some consideration as to how you will be mounting your chart to the wall. If you're going to be in someone's home or a rented room at a hotel, they probably won't want you to use tape or thumbtacks. We have found that the best solution is to use a removable adhesive. Many companies sell this product for temporarily mounting poster board or paper to any type of wall. Product names usually sound about the same, and include Fun Tac, Tac 'N Stick and Poster Putty. A single package will cost about $3.00 or less. If you have a big chart, buy three or four packs. The blue colored putty works better than the white in our experience.
Depending upon the size and weight of your chart, make sure that you use enough putty to securely hold your chart to the wall. One package of putty will hold a 1-pound chart in place according to the manufacturer's packaging. We typically put a small dot of the putty about the size of a dime about 8 to 12 inches apart on the back of our own charts. When it's time to take your family tree chart down, the putty easily comes off the chart and the wall with just a simple rolling motion without leaving any marks or residue.
Another product that some of our customers have tried and and good results with is called Scotch Restickable Tabs. These adhesive tabs can be reused. A package of 18 1-inch by 1-inch tabs is around $3.50. As with poster putty, make sure you buy enough packages to securely hold your chart up so that it doesn't wrinkle or rip if it starts coming off the wall.
Gathering Information & Photos At Your Family Reunion
It's the unfortunate reality of family reunions that you're not going to be able to get complete family information from everyone prior to your family reunion. This means you're going to have missing names, dates and locations on your genealogy chart. So, be prepared for this and decide in advance how you want people to add or update their information. Do you want them to simply write it on the chart, or do you want to have a supply of our family data sheets and ancestral data sheets placed near the chart for folks to use? Whichever you decide, it's a good idea to place an instruction sheet conspicuously near the chart that tells everyone exactly how you'd like them to provide you with any missing information.
If you like to include photos on your future genealogy charts, make sure you have your camera with you throughout the entire event so that you can be taking lots of individual and group photos. My wife recently attended a small family reunion of relatives that she hadn't seen for over 25 years. In addition to bringing a few different genealogy charts of the particular family with her, we also went through some old photos and put together a gorgeous 2-foot by 4-foot collage of photos from family reunions that took place over 47 years earlier (shown below). When coupled with a family tree chart, the photo collage really helped set the tone of the get-together. Your descendants will probably treasure the group photos that you take at your family reunions as well.
Providing Smaller Charts to Attendees At Your Family Reunion
As gorgeous and information packed as they are, very few people at your family reunion will be able to afford to order a full blown chart like you'll be presenting. As an alternative, there are a number of condensed descendant charts which are ideal to make available to attendees of a family reunion who don't want to purchase a 25 to 50 foot chart showing complete details, but who would still like some record of their family genealogy to take home.
We're so sure you'll love our genealogy printing services that we confidently provide a complete money back guarantee on all family tree printing orders. We look forward to being able to print your chart for your next family reunion.
Please call us at 630-653-8400 or e-mail us at sales@ancestryprinting.com if you have any questions about printing your family tree for your family reunion. And, if you haven't already done so please watch the video about our services. International callers can also Skype us if preferred; however, we ask that you email us to set up a convenient time for a Skype to Skype call.  We are located in the central time zone of the U.S. (GMT/UTC-6 and -5 in the summer), and can make arrangements for incoming Skype to Skype calls up to around 10:00 PM local time on most nights. We only accept Skype to Skype calls that have been pre-arranged by email.
Table of Contents
This table of contents is at the bottom of every page on our website.