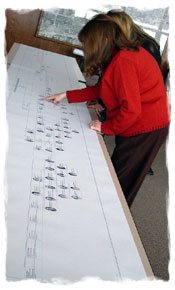 What is cherished
should be shared
Our Genealogy Chart Printing Company
We're a very specialized printing company dealing only with genealogy charts. Moreover, we're family historians and genealogists ourselves, and share the same passion for our hobby that you and the rest of our customers do.
Of great importance to virtually every one of our customers is the fact that we don't run an automated service. We are totally customer focused, so you will be speaking with actual people - experts who will answer your questions and guide you through every step of the process! We work 7 days a week until 10 PM central time most nights so we're available to fit your schedule. Mornings are the busiest times that we're on the phone, so if possible, call in the afternoon or evening. If we don't answer it only means that we're on the phone with someone else, so please leave a message and we'll get back to you as soon as possible.
We started our family tree printing business in 2003 to solve our own genealogy chart printing needs after actively researching our own genealogy for a number of years. It had come time to print a number of large ancestor and descendant charts for both ourselves and a number of relatives; however, taping together 8 & 1/2 by 11 inch pages was no longer an option as our charts had grown too large for that to be feasible. Unfortunately, we couldn't find a printer who specialized in printing large format genealogy charts that we were comfortable dealing with.
Here are the problems we faced in trying to find someone to print our large format genealogy wall charts:
Of the few genealogy printers we could find on the Internet, none listed a phone number or physical address. We were very uncomfortable with this.
Regular commercial printers didn't really understand our needs nor would they allow our genealogy software to be installed on their computers in order to print our family tree charts.
The rates we were getting quoted by commercial printers ranged from $400 to $900 per chart depending upon the specific genealogy chart, and were far more than we could afford.
The technical procedures required to convert our ancestor and descendants charts to a postscript format for them to print from were well beyond our comprehension.
Faced with what seemed like an insurmountable problem, we decided that the only solution was to purchase the equipment and supplies ourselves. After receiving countless compliments on the quality of our genealogy charts from relatives and others who had seen our printed charts, we made the decision to provide this much needed service to other genealogists who wanted to print their ancestry charts as well. As our company has grown, we also began offering blank fill-in-yourself genealogy charts at the request of countless customers who wanted an easy way to track their progress researching their various ancestral lines.
Over the years that we've been in business, it has been very gratifying for us to be able to work with countless other family historians and genealogists from around the globe who, like ourselves, have needed to bring their data to life in a printed chart form. Being able to see your research in printed form and show it off to others is one of the many fun rewards of genealogy and we're glad to be able to be a part of that event in your life. This has been a full-time business since 2004, and it has allowed us to enrich the lives of our customers who come to us from all 50 states and numerous countries around the world. The wonderful unsolicited testimonials we've received via email will give you some insight as to what our customers have experienced over the years, and how they view our company.
Our Philosophy in Dealing With Our Customers
Our philosophy has always been:
to meet or exceed our customer's expectations in every way possible
to provide personalized service over the phone as opposed to running an automated online service
to make sure our customers receive their family tree charts in a timely and professional manner
to make sure our prices are affordable for anyone requiring genealogy printing services
to provide the best possible family tree printing service we can to every single customer
We're so sure you'll love our genealogy printing services that we confidently provide a complete money back guarantee on all charts that are printed from your data. We look forward to being able to work with you and your family so that you can enjoy all of the benefits of a printed ancestral, descendant, or any other form of genealogy chart.
Who We Are
Although we've been in business and printing genealogy charts for over 17 years, we want to make sure you know exactly who we are and who you're dealing with, so here's our full contact information and photos. Please feel free to call us at any time.
Larry & Cheryl Spiegel
Ancestry Graphics & Printing
26W482 Blair St
Winfield, IL 60190

630-653-8400
Please call us at 630-653-8400 or e-mail us at sales@ancestryprinting.com if you have questions about any of our genealogy chart printing services or submitting your order. International callers can also Skype us if preferred; however, we ask that you email us to set up a convenient time for a Skype to Skype call.  We are located in the central time zone of the U.S. (GMT/UTC-6 and -5 in the summer), and can make arrangements for incoming Skype to Skype calls up to around 10:00 PM local time on most nights. We only accept Skype to Skype calls that have been pre-arranged by email.
Our privacy policy is available here for your review.
You can also visit our company page on Facebook at https://www.facebook.com/FamilyTreePrinting.
Table of Contents
This table of contents is at the bottom of every page on our website.