Printing A Chart From OnePage Genealogy
If you're having trouble printing a OnePage Genealogy chart because you don't have the unlock code or password, we can help. Family tree printing is our only business and we can easily print from locked OnePage Genealogy PDF files even when you don't have the password.
BYU OnePage Genealogy Printing
Several years ago a software program for designing genealogy charts from GEDCOM files was developed at BYU and was named OnePage Genealogy. OnePage Genealogy could design pedigree charts of up to about 20 generations. Unfortunately, the PDF charts which were created by this software required an unlock code or password in order for them to be printed. Although the OnePage Genealogy site at BYU is no longer operational and you can't get the unlock codes directly from them, we can still print any genealogy chart which you've designed in that program even if you don't have the unlock code or password. Simply email us your file for a quote.
Please call us at 630-653-8400 or e-mail us at sales@ancestryprinting.com if you have any questions about our genealogy chart printing services. And, if you haven't already done so please watch the video about our services.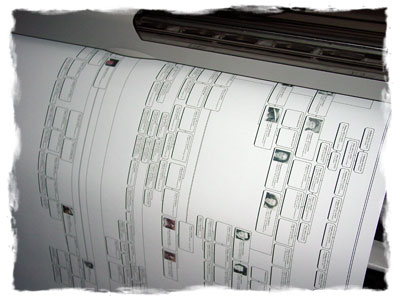 Printing large family tree charts is our specialty.